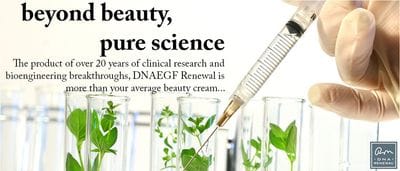 Here at Sydney West Aesthetics we stock the following products:
We believe this is the next generation in skincare. Damage in the DNA causes cells to renew as poor quality cells and producing weaker collagen, resulting in brown spots, wrinkles and discoloration. DNA Repair Enzymes repair this damage, enabling fresh young cells to proliferate. Epidermal Growth Factor stimulates skin growth at the cellular level and may also increase collagen production, resulting in dramatically tightened pores and thicker skin. Suitable for all skin type, they lead to the slowing of the aging process and boosting skin health for a more youthful, radiant complexion.
As seen in the Skin Cancer Foundation journal, DNA Repair Enzymes play a prominent role in repairing sun damage, therefore also helping to work against skin cancer.
For more info go to https://www.youtube.com/watch?v=TWj4d5ujaSU
ASAP Cosmeceutical skincare
ASAP is our basic skincare range. It is Australia's number one cosmeceutical skin care range, offering scientifically proven skin care solutions for women and men of all skin types. Proudly Australian made and owned, ASAP is committed to providing simple, effective and affordable skin care with fast acting visible results. Formulations contain optimum levels of the most innovative and technologically advanced active ingredients. ASAP keeps its product range concise and affordable so that caring for your skin is a simple pleasure, everyday.
For more info go to https://www.youtube.com/watch?v=t-gMRuNVWCQ
Lycogel Cover & Recovery Foundation
The first Breathable Camouflage and Concealer makeup that combines multiple skin care technolgies in one product to improve your skin to promote post procedure healing and rejuvenating at the same time with a flawless finish. Lycogel was originally developed to be used by doctors immediately after cosmetic procedures to promote a quick and comfortable recovery, whilst powerful ingredients and skin fortifying vitamins promote visibly healthier skin with every application.
Lycogel coverage lasts all day, looking natural and feels as of you have nothing on! The Breathable Camouflage is available in 12 shades. It can be mixed and applied in buildable layers to create a custom coverage for a more natural look. Water resistant for up to 90 minutes of smimming, while keeping your skin protected with full spectrum SPF 30+ sun protection.
For more info go to https://www.youtube.com/watch?v=efB28nq8QTM
We also stock GrandeLASH-MD Eyelash & Eyebrow Formula for longer and thicker Eyelashes & Eyebrows safely. This effective formula is made from natural ingredients engineered with vitamins, peptides and amino acids. It has been shown to improve the appearance of your eyelashes and eyebrows in LENGTH, FULLNESS and THICKNESS in only 4-6 weeks.
For more info go to https://www.youtube.com/watch?v=yEhfkaAkzQM
This brand new molecule was created especially to improve the results and experience from using ordinary retinol. A proper Retinol (the world's best proven anti-aging ingredient) with proper skin-refining complexion evening results that won't cause irritation or breakdown in UV light. Fine lines are visibly softened, pigmentation visually reduced and the overall skin surface uniformity is restore. Skin looks clearer, bighter, revitalised and youthful. We are proud to inform you that the retinyl retinoate molecule is so special that it was awarded the Korean Presidnet's Award for Technology.
Bipoelle Tensage Stem Cell Technology
Tensage® Stem Cell features CellPro Technology, a unique, natural ingredient extracted from the eggs of the Cryptomphalus aspersa snail. It is clinically proven to help replenish, reinforce, and restore the appearance of youthful-looking skin.
Bipoelle Tensage Stem Cell Cream
A rich, nourishing formulation ideal for maturing skin. Tensage® Stem Cell Cream helps combat multiple signs of aging on the face, neck & décolleté. Additional ingredients include peptides, ceramide NP, Vitamin C, Vitamin E, antioxidants, soothing botanical extracts and retinol.
Bipoelle Tensage Stem Cell Eye Cream
A rich, nourishing formulation ideal for the fragile eye area. Tensage® Stem Cell Eye Cream helps combat multiple signs of aging around the eyes like crow's feet, dark circles and under eye puffiness. Additional ingredients include caffeine, peptides, antioxidants, soothing botanical extracts, brightening agents, sodium hyaluronate and retinol.